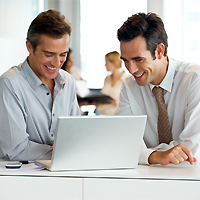 We are a Gujarat-based recruitment agency and offer excellent Contractual Staffing solutions. We work to nurture long term relations with client companies and provide highly satisfactory services. We listen to their every requirement attentively and deliver responsible and innovative solutions. We also understand the clients' business and various complexities involved. Our services save the clients from the expenditure of hiring extra personnel or compromising on the workforce as it would increase the headcount. We can find potential workforce for clients for temporary positions and contractual work immediately.

Our services are focused on assisting clients in multiplying their revenue and we do so by providing them efficient professionals. We provide swift services and also respond to the requests of clients that are urgent in nature. The candidates referred by us are highly competent and can handle the operations of the company efficiently. This also enables the client to achieve consistency in his/her business operations.

Our Contractual Staffing services are a turnkey solution to the problem when suddenly there are new projects in hand and workforce in the company is less in comparison to work available. We would also formulate the payrolls of the candidates, thus reliving you from hiring some extra employees to handle the HR operations. Our services are very reliable and can be availed at very reasonable charges. We are your well-wisher and a friend you can always rely upon for Contractual Staffing solutions.